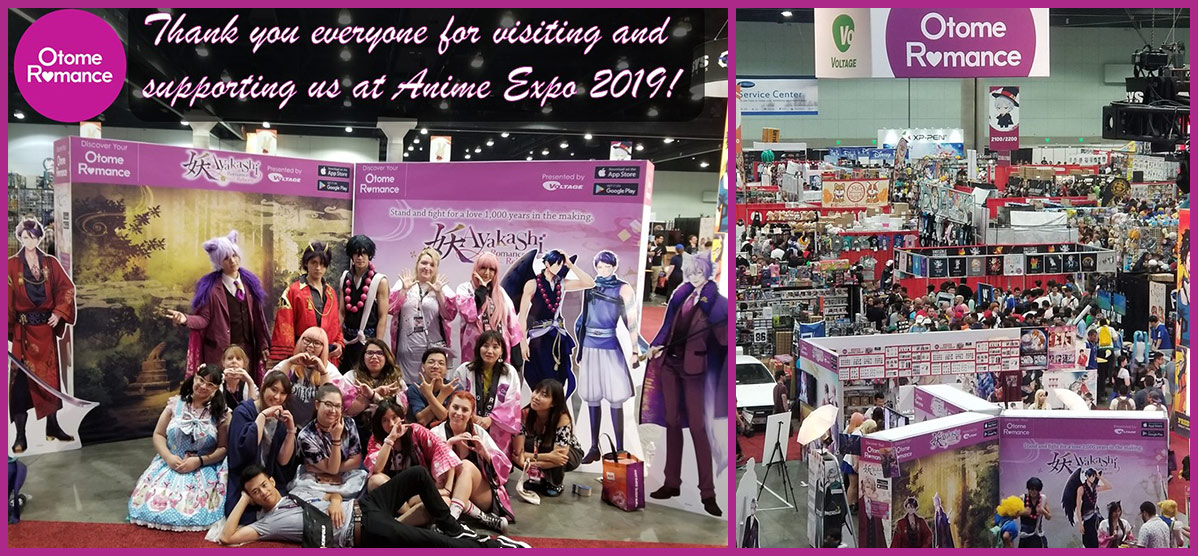 Thank you everyone who came out to visit us at Anime Expo 2019 in Los Angeles, California July 4-7! For those that were not able to visit us, there will be more opportunities to get your Otome Romance fix with our Purple Plum Pop-Up Shop Collaboration. The schedule can be seen here. If you can't make it to any of the conventions, please visit AnimeStuffStore.com for our goodies!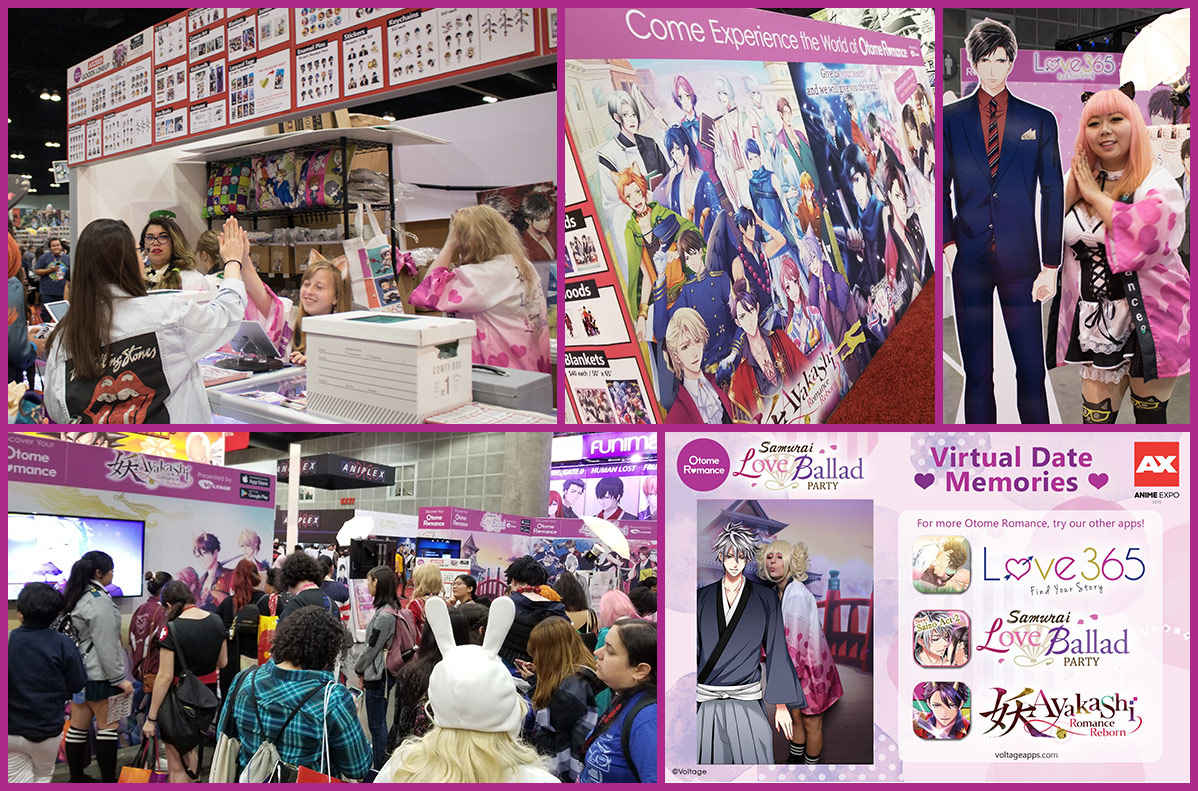 Our merch lineup this year included an assortment of over 150 different items, featuring goodies from our classic titles to our brand new app, Ayakashi: Romance Reborn!
Alongside the merchandise booth, attendees were able to go on Virtual Dates with some of eligible suitors. Love 365 suitors included; Eisuke Ichinomiya (Kissed By the Baddest Bidder), Kei Soejima (Masquerade Kiss), and Dr. Yukihisa Maki (Irresistible Mistakes). Samurai Love Ballad: PARTY samurai included; Saizo Kirigakure, Hotaru Kirigakure, and Date Masamune,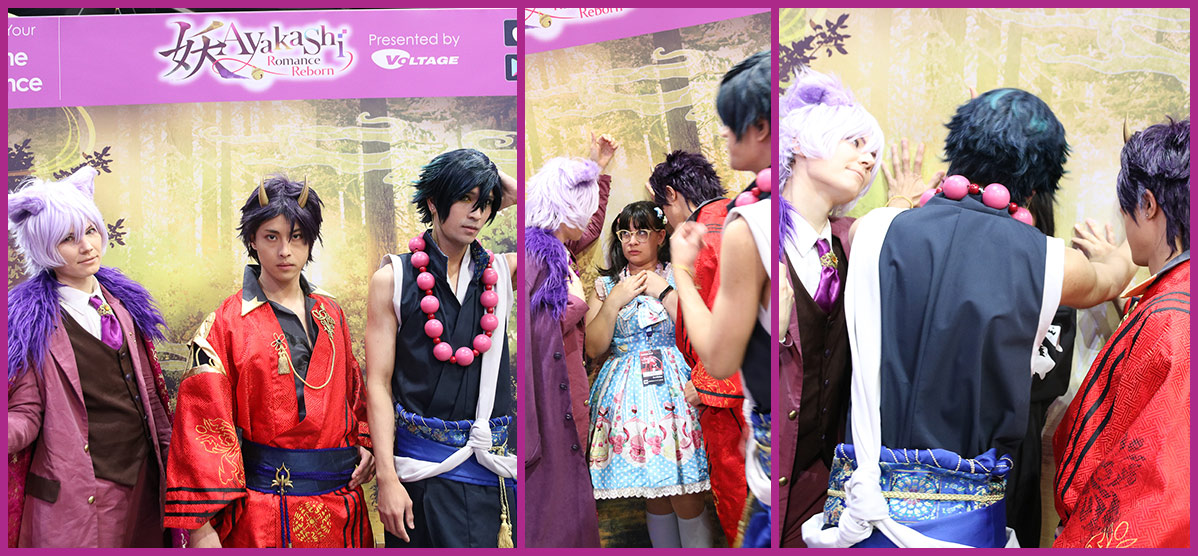 Koga, Kuya, and Toichiro lovingly posed with attendees throughout the entire convention. Many attendees received special omikuji fortunes in which attendees were able to receive special poses from our cosplayers. Some lucky attendees were able to receive a 'triple kabe-don'.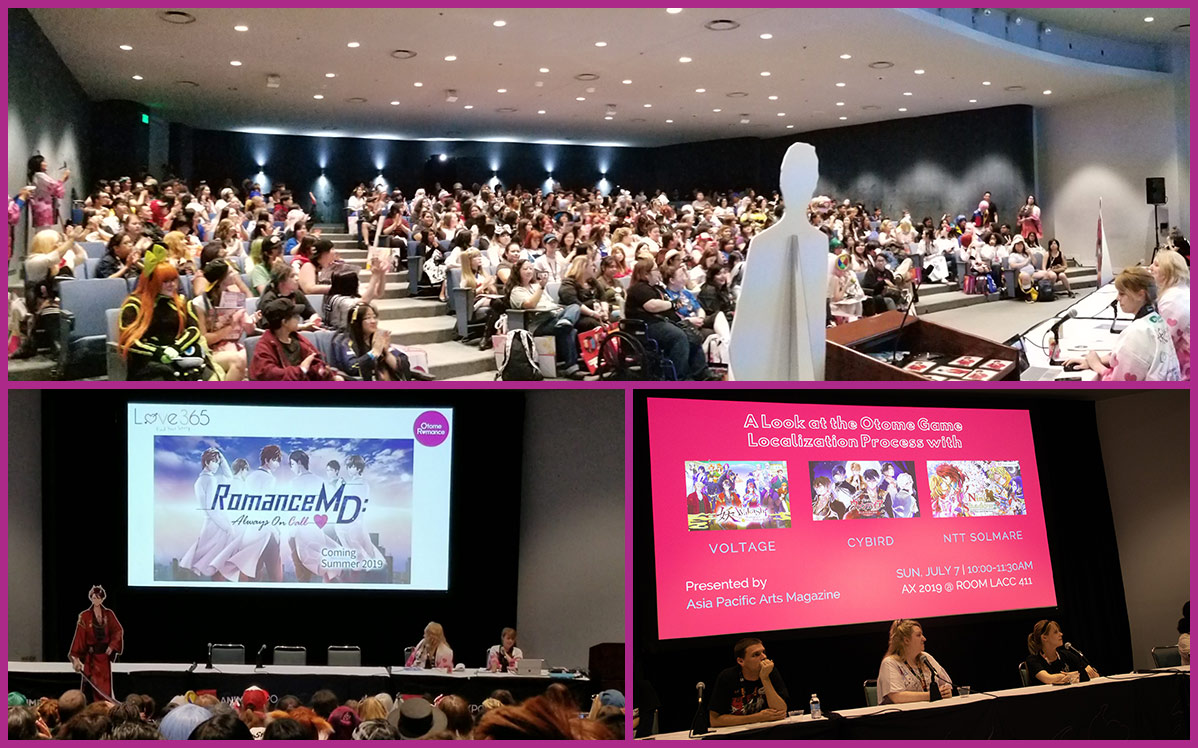 Our first panel (Voltage Otome Romance) on 7/6 at 7pm were filled beyond capacity. We're sorry not everyone that had waited were able to get in. There were many announcements; amongst which Romance MD: Always On Call, a new title coming to Love 365, and Star-Crossed Myth for the Nintendo Switch will become available later this summer.
Our second panel (A Look at the Otome Game Localization Process) with representatives from the major otome mobile developers, Voltage Inc, Cybird, and NTT Solmare on Sunday morning was also filled to capacity. This panel was hosted by Asia Pacific Arts Magazine, featured the distinct localization processes of all 3 companies.
This Anime Expo was a great success thanks to all of our fans that came to give us support in-person and online! Thank you everyone!
About Voltage Inc.
Pioneering the Otome Romance revolution since 2011, Voltage Inc. is a leading publisher and developer of Otome Romance story-based mobile apps and games. Our most popular titles include Samurai Love Ballad: PARTY, Kissed by the Baddest Bidder, and Star-Crossed Myth (now available in Love 365: Find Your Story). With over 60 million downloads worldwide, our apps are available in all major app stores including iTunes App Store, Google Play, and Amazon App Store. Publicly traded, Voltage is headquartered in Tokyo, with offices in Nagoya and San Francisco. Find out more at voltageapps.com.