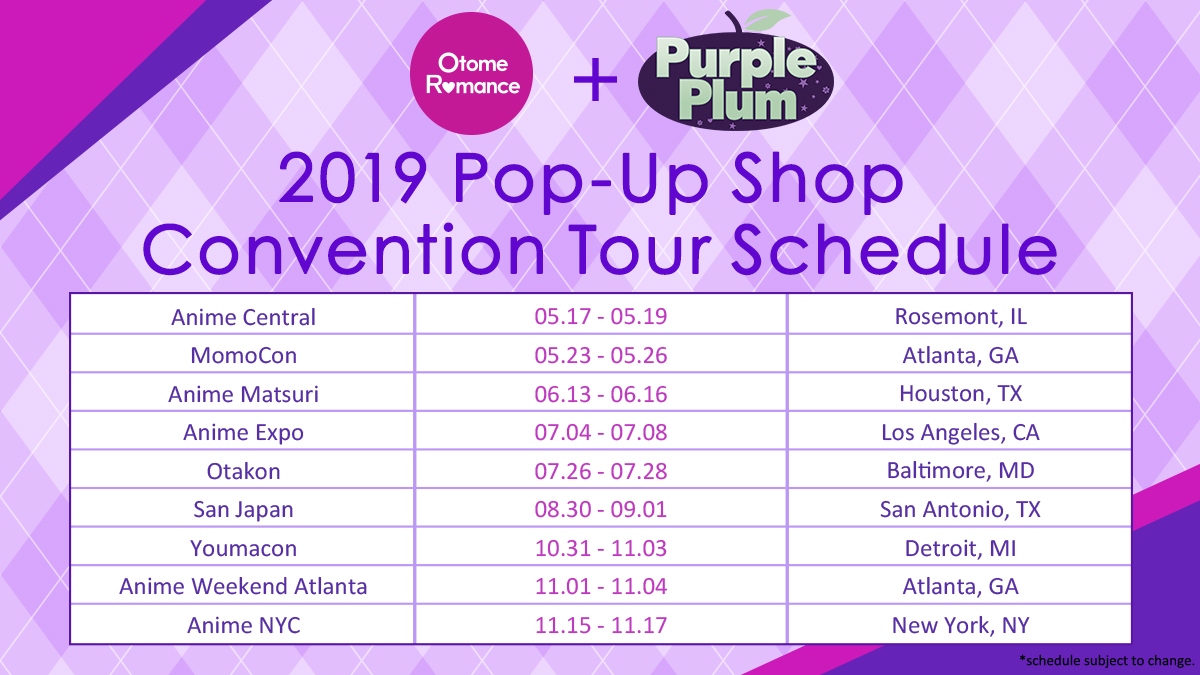 We're proud to present the Voltage Otome Romance Pop-Up Shop collaboration with our retail partner, Purple Plum! The Otome Romance Pop-Up Shop will be touring various US conventions this summer outlined below. The first wave of 2019 merch will debut at Anime Central (May 17-19), and will be available online at animestuffstore.com after the convention.
If you can't go to Anime Central, don't dismay! The POP-UP Shop collaboration will make its rounds at the following conventions!
POP-UP Shop Convention Tour Schedule:
| | |
| --- | --- |
| Anime Central | (05/17-05/19) Rosemont, IL |
| MomoCon | (05/23-05/26) Atlanta, GA |
| Anime Matsuri | (06/13-06/16) Houston, TX |
| Anime Expo | (07/04-07/08) Los Angeles, CA |
| Otakon | (07/26-07/28) Baltimore, MD |
| San Japan | (08/30-09/01) San Antonio, TX |
| Youmacon | (10/31-11/03) Detroit, MI |
| Anime Weekend Atlanta | (11/01-11/04) Atlanta, GA |
| Anime NYC | (11/15-11/17) New York, NY |
Keep an eye out for product images and details!
Follow us on social media for the latest updates!
Facebook
https://www.facebook.com/Voltage.Otome.Romance/
Instagram
https://www.instagram.com/otomeromance/
Tumblr
http://voltageotome.tumblr.com/
Homepage
https://voltageapps.com/
About Voltage Inc.
Pioneering the Otome Romance revolution since 2011, Voltage Inc. is a leading publisher and developer of Otome Romance story-based mobile apps and games. Our most popular titles include Samurai Love Ballad: PARTY, Kissed by the Baddest Bidder, and Star-Crossed Myth (now available in Love 365: Find Your Story). With over 60 million downloads worldwide, our apps are available in all major app stores including iTunes App Store, Google Play, and Amazon App Store. Publicly traded, Voltage is headquartered in Tokyo, with offices in Nagoya and San Francisco. Find out more at voltageapps.com.