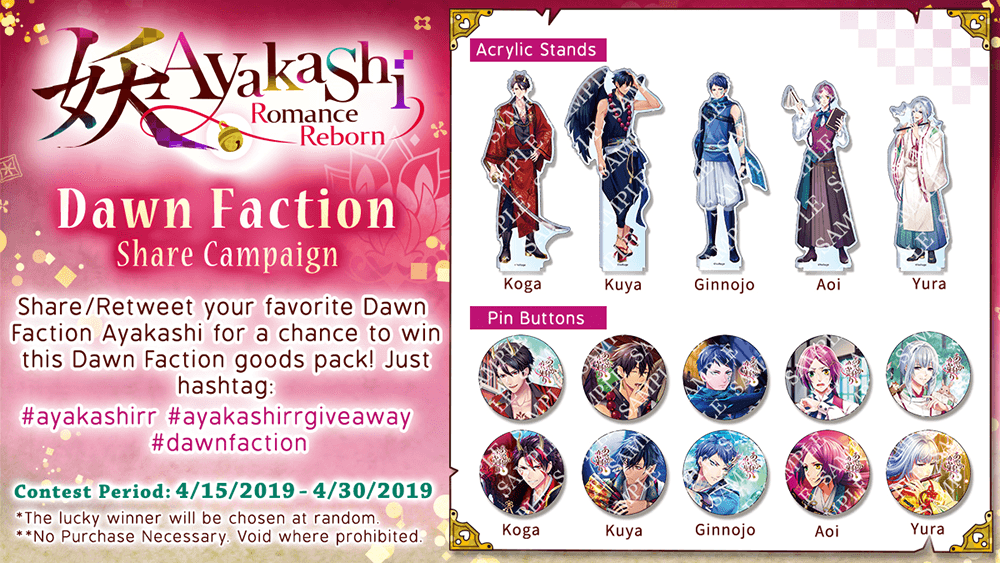 Get spirited away to a world of handsome Ayakashi, and uncover a love story 1,000 years in the making. Which member of the Dawn Faction is your favorite?
Koga, the Oni Ogre
Kuya, the Tengu
Ginnojo, the Mizuchi Dragon
Aoi, the Satori Seer
Yura, the Tsukumo-gami Dragon Flute
Want a headstart on your shrines? Enter our Ayakashi: Romance Reborn Dawn Faction Merch Giveaway! Share/Retweet your favorite Dawn Faction Ayakashi for a chance to win this Dawn Faction goods pack! Just hashtag:
#ayakashirr #ayakashirrgiveaway #dawnfaction
CONTEST DATES: April 15, 2019 – April 30, 2019 JST
Winner will be announced on our social media channels by May 10th!
Winner will be selected at random. No purchase necessary. Void where prohibited.
Ayakashi: Romance Reborn — Coming Summer 2019!
Follow us on social media for the latest details!
https://www.facebook.com/Voltage.Ayakashi/
https://twitter.com/AyakashiRR
Homepage:https://voltageapps.com/ayakashi/
About Voltage Inc.
Pioneering the Otome Romance revolution since 2011, Voltage Inc. is a leading publisher and developer of Otome Romance story-based mobile apps and games. Our most popular titles include Samurai Love Ballad: PARTY, Kissed by the Baddest Bidder, and Star-Crossed Myth (now available in Love 365: Find Your Story). With over 60 million downloads worldwide, our apps are available in all major app stores including iTunes App Store, Google Play, and Amazon App Store. Publicly traded, Voltage is headquartered in Tokyo, with offices in Nagoya and San Francisco. Find out more at voltageapps.com.