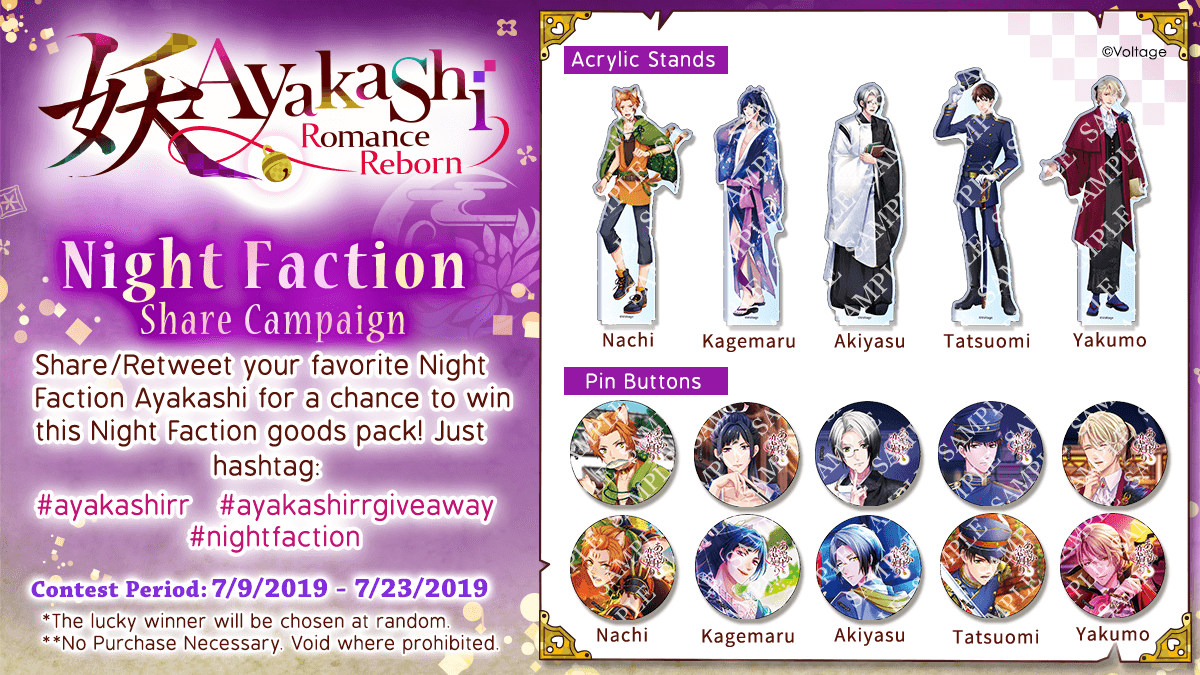 Feeling the post-convention blues? Get spirited away to a world of handsome Ayakashi, and uncover a love story 1,000 years in the making. Which member of the Twilight Faction is your favorite?
Akiyoshi, the Onmyoji Diviner
Kagemaru, the Jorogumo Spider-Woman
Yakumo, the University Professor
Tatsuomi, the Soldier
Nachi, the Nekomata Cat Spirit
Enter the Ayakashi: Romance Reborn Night Faction Merch Giveaway! Share/Retweet your favorite Night Faction Ayakashi for a chance to win this Night Faction goods pack! Just hashtag:
#ayakashirr #ayakashirrgiveaway #nightfaction
CONTEST DATES: July 9, 2019 – July 23, 2019 JST
Winner will be announced on our social media channels by July 30th!
Winner will be selected at random. No purchase necessary. Void where prohibited.
Download Now!


Follow us on social media for the latest details!
https://www.facebook.com/Voltage.Ayakashi/
https://twitter.com/AyakashiRR
https://www.instagram.com/ayakashirr/
Homepage:
https://voltageapps.com/ayakashi/
About Voltage Inc.
Pioneering the Otome Romance revolution since 2011, Voltage Inc. is a leading publisher and developer of Otome Romance story-based mobile apps and games. Our most popular titles include Samurai Love Ballad: PARTY, Kissed by the Baddest Bidder, and Star-Crossed Myth (now available in Love 365: Find Your Story). With over 60 million downloads worldwide, our apps are available in all major app stores including iTunes App Store, Google Play, and Amazon App Store. Publicly traded, Voltage is headquartered in Tokyo, with offices in Nagoya and San Francisco. Find out more at voltageapps.com.