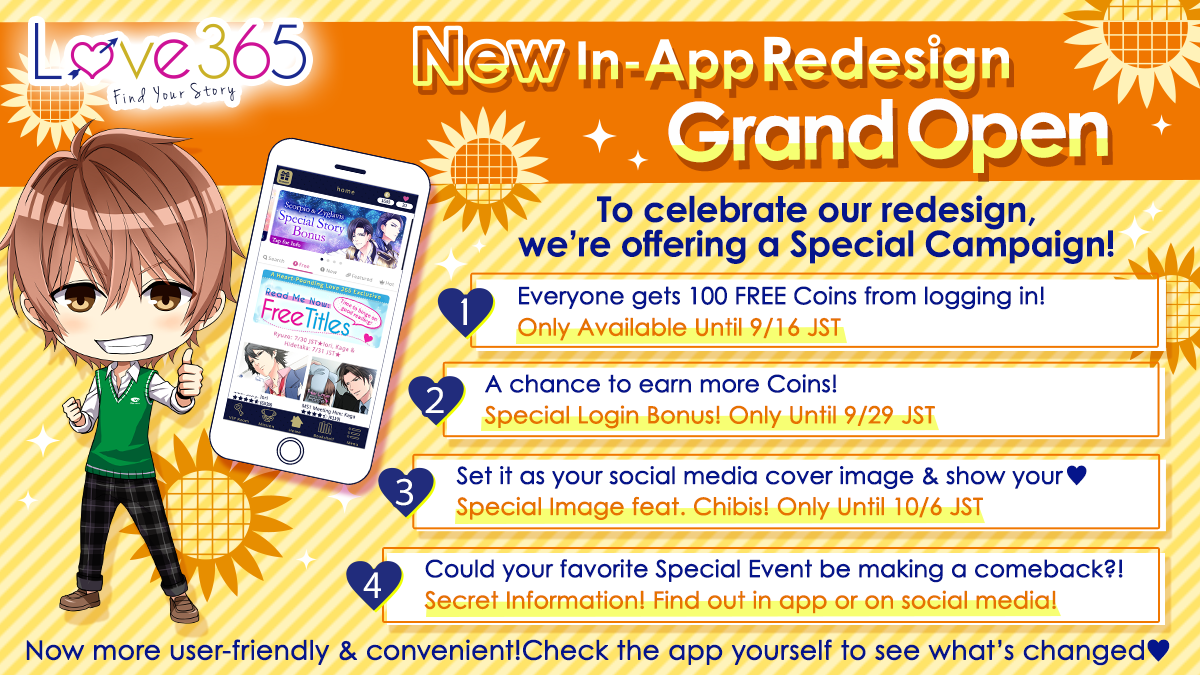 We have some GRAND news for you! We have redesigned Love 365: Find Your Story to make navigating the app easier for you all!
Check the app to see for yourself what's changed or click here for the complete overview!
And as a celebration for the redesign, we will be hold a few limited campaigns such as:
100 FREE Coins just by logging in!
A chance to earn more coins!
Special image featuring chibis!
Special event comeback?
The time period for each campaign may vary so be sure to check out the app and social media for further details!
Homepage:
https://voltageapps.com/love365/
About Voltage Inc.
Pioneering the Otome Romance revolution since 2011, Voltage Inc. is a leading publisher and developer of Otome Romance story-based mobile apps and games. Our most popular titles include Samurai Love Ballad: PARTY, Kissed by the Baddest Bidder, and Star-Crossed Myth (now available in Love 365: Find Your Story). With over 60 million downloads worldwide, our apps are available in all major app stores including iTunes App Store, Google Play, and Amazon App Store. Publicly traded, Voltage is headquartered in Tokyo, with offices in Nagoya and San Francisco. Find out more at voltageapps.com.