Voltage Inc., a leading Otome mobile app developer, will be consolidating our titles under the Otome Romance umbrella to better serve our audience. The rebranding includes a top-to-bottom redesign of the company's website, logo, graphics, communications, and correspondence. Otome Romance's new brand assets include a simplified purple and white logo, along with other visual communications that utilize simple, bold graphics to unify our branding.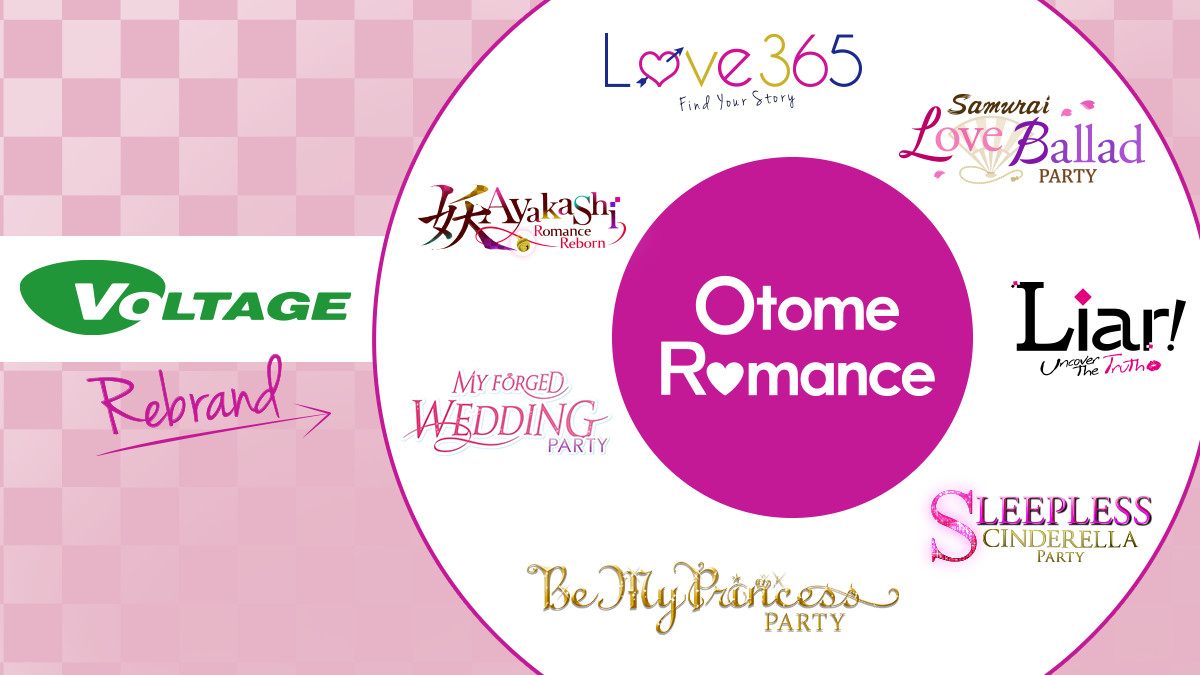 Otome Romance: Love 365
Otome Romance: Samurai Love Ballad PARTY
Our social media channels will undergo some moderate changes to better facilitate the re-branding. Channel names have been simplified to match our brands. Current followers may notice some slight changes on our pages, but feeds and discovery will largely remain unchanged. Please excuse the hiccups on our social media pages until all of the links have been updated.
Our channel names will be updated in this fashion:
Voltage Visual Romance Apps: Novel
→ Love 365: Find Your Story

Voltage VIsual Romance Apps: Party
→ Samurai Love Ballad: PARTY
"Being the pioneer of the genre, our brand alignment is just another step in our evolution. We strive to continue providing our fans with high quality storytelling and content that have made hearts flutter for over a decade. We look forward to delighting our readers with all things, Otome Romance!" Nana Higashi (Co-Founder, Voltage Inc.)
A BIG announcement is forthcoming! Keep an eye out for it!
Please refer to our homepage for updated links and information.
---
About Voltage Inc.
Voltage Inc. is a leading publisher and developer of Otome Romance mobile games. We publish a full range of romance stories including our most popular titles like Kissed by the Baddest Bidder, Samurai Love Ballad: Party, and Scandal in the Spotlight. We have led the Otome Romance revolution since 2011. With over 60 million downloads worldwide, our apps are available on all major app stores including iTunes App Store, Google Play, and Amazon App Store. Publicly traded, Voltage is headquartered in Tokyo, Japan with offices in Nagoya and San Francisco, USA. Find out more at https://voltageapps.com.